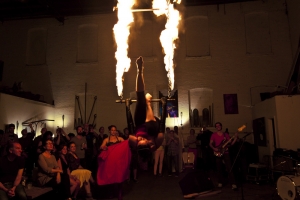 Just kidding. No need to dial 911 here. That picture to the left is Iced Ink fan and inventor of the fire trapeze Erinina. That's her doing her thang while we were doing our thang at an OXHEART event back in June (more photos from that event can be observed here).
Pretty sweet, huh? Well if you missed our Oxheart set (and Erinina's death defying fire trapeze performance) it's happening again this Sunday August 5th at the Gowanus Ballroom at Erinina's Fire Trapeze Launch! A Circus Party! Join us for what will Shirley be a fine Iced Ink set – and if we're lucky, perhaps Erinina will re-enact the photo to the left as we play. Kinda like a live and not so grainy/distorted version this video of it.
Also added to the calendar is a gig at the Local 269 on August 15th. Head on over to the GIGGS page for all of the gory info!