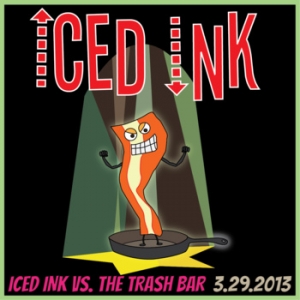 A bootleg recording of our 3.29 Good Friday (or Most Excellent Friday as we like to call it) show at The Trash Bar is available for FREE… yes, FREE on our bandcamp page. Name-your-own-price donations are more than welcome but if your own price happens to be $0 hey, that's fine too. Either way check out a few of the tracks below or on our bandcamp page. You dig? Press BUY IT NOW and just put any number ranging from a big fat goose egg to one billion in the box that pops up and download away.
Tell your friends. Share it on the internets. Burn it to a CD. Dub it onto a cassette tape. Etch it onto a wax cylinder. Torrent it. Paint to it. Vacuum to it. Play it on a boom box in the street and do an interpretive dance to it. We don't care, as long as you're enjoying yourself.
p.s. – In addition to the undying effervescing love and thanks to all family, friends, and innocent bystanders who were there representing we'd like to give major props to oddience guest stars Jeff Hovendon and breakdancer Nico for making this show extra spatial. Er. Special.