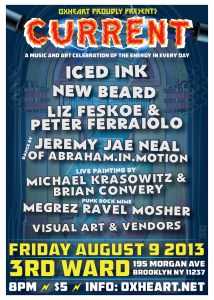 Look! It's OXHEART!
We're tickled green to be playing this Friday at OXHEART's "CURRENT" taking place at 3rd Ward. You should come. Per usual it's going to be filled to the rim with ass kicking art, music, performers, peeps, and so on. Here are the details in all of their gory glory (blatantly copied and pasted from the Facebook Event):
*******
We'll be exhibiting visual art alongside…
Dance:
Jeremy Jae Neall of Abraham.In.Motion
Performance Art:
Megrez Ravel Mosher, punk rock mime
King Coyote Butterfly, performance art/fortune telling/jewelry
Live music from:
Mike Krenner
Liz Feskoe & Peter Ferraiolo
New Beard
Iced Ink
Live Painting by:
Michael Krasowitz
Brian M Convery
Caricature Sketching of guests by
Kenly Dillard
Our Wicked Cool Host: Alfie Bunz
LIVE-STREAMING by NYC Live Rock, Guy Ward
www.nycliverock.com
Tickets are $5 at the door.